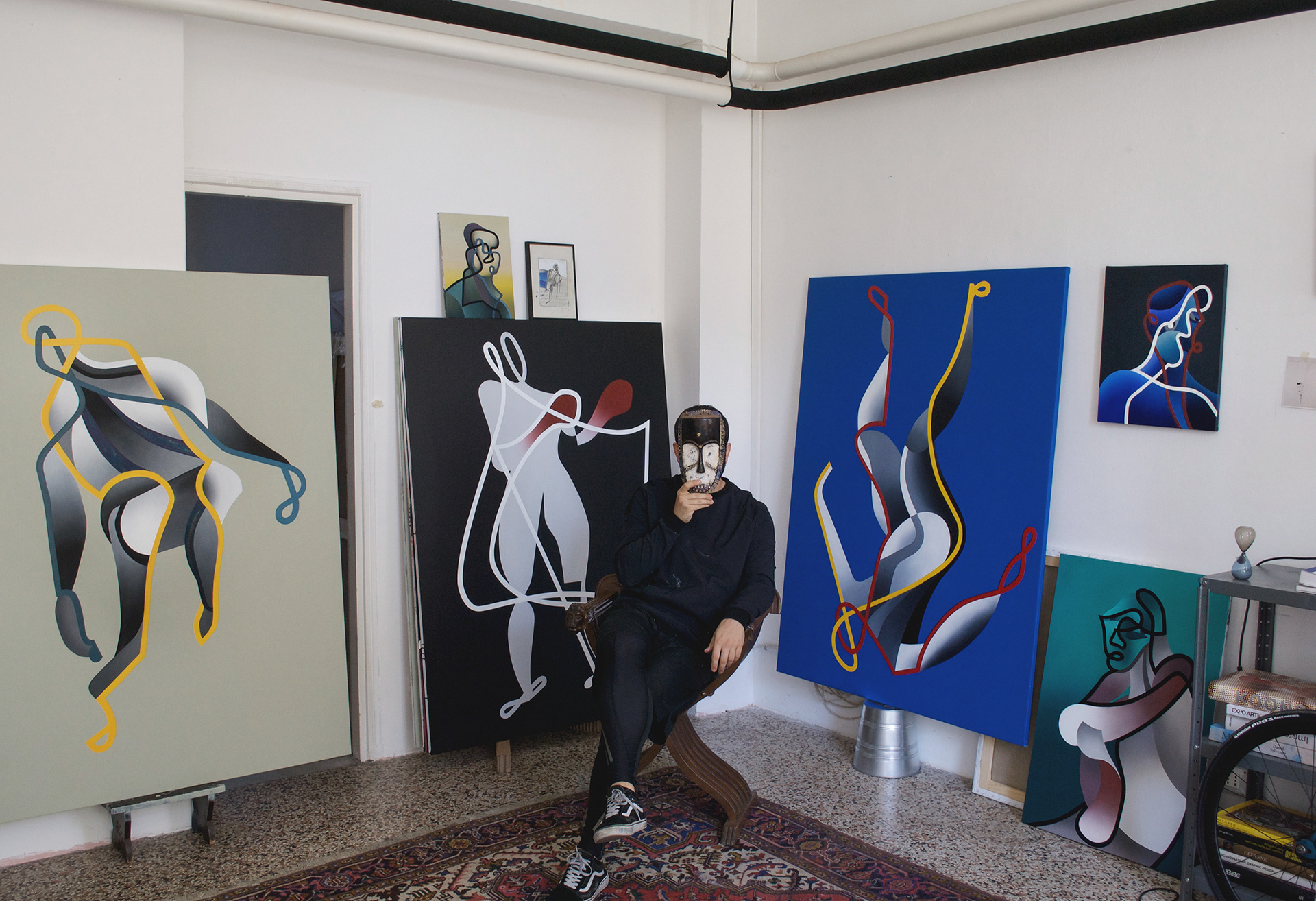 Stefano Perrone (b.1985, Italy) lives and works in Monza.

Man is undoubtedly the main focus of Stefano Perrone's artistic research.
Face and body change and transform themselves to find a marginal identity, the evident crisis of contemporary indi-viduals who suffer the growing complexities as wanderers do. However, they do not contemplate the infinite above the sea of fog, like Caspar David Friedrich's painting, but do feel more and more lost inside tentacular and labyrinthine social structures suffocating any possible impulse. An instable sense of Vertigo which grows, threatening the psychophysical balance, causing an enduring and endless fall, an attracting vortex with no exit or light.
Travelling in Europe, from London to Berlin, he gave birth to his first series, the "Faceless Portraits"; Perrone's pictorial language evolved from distorted and emaciated bodies and faces to the current mode, in which geometries, lines and vector graphics create changing entities more similar to heavenly bodies than humans.
SOLO EXHIBITION



2016-2017 - Void - Absolute Art Gallery - Lugano, Switzerland
2016 - Vertigo - Curated by Alberto Mattia Martini - Melzi Fine Art, Milan, Italy
2015 - Two souls - Curated by Katsu Ishida - The Others, Turin, Italy
2015 - Stefano Perrone. An exhibition - Curated by Melzi Fine Art - Melzi Fine Art, Milan, Italy
2014 - Personae - Curated by No Mercy for K - Neue Heimat, Berlin, Germany



GROUP EXHIBITION



2017 - Dinamica - Curated by Melzi fine Art and Alon Zakaim Fine Art - Alon Zakaim Fine Art, London, United Kingdom
2017 - We are the ones VOL1 - Curated by Simon Ganshorn, Galina Munroe and Jordy Kerwick - Copenhagen, Denmark
2016 - Id Dante - Curated by Maria Vittoria Baravelli - Biblioteca Casa Oriani, Ravenna, Italy
2016 - Systema Biennale - Curated by Katsu Ishida - Systema Gallery, Montese, Italy
2015 - Stop at nothing - Curated by Melzi fine Art and Alon Zakaim Fine Art - Alon Zakaim Fine Art, London, United Kingdom
2015 - Meditation - Curated by Katsu Ishida - Systema Gallery, Osaka, Japan
2015 - Expo Arte Italiana - Curated by Vittorio Sgarbi - Expo 2015 Villa Bagatti Valsecchi, Varedo, Italy
2014 - Aliens - Curated by Frattura Scomposta Magazine - Casa di Ludovico Ariosto, Ferrara, Italy